Delivery to USA
Your order is shipped with DHL courier service. Delivery within 4-5 business days across the Unites States.
We deliver worldwide
More information
Rose bear wholesale
Buying in bulk gets you wholesale prices
for quality and unique rose bear gifts!
Get the pricelist

notta & belle
The Rose bear -
No. 1 in the world!

fast shipping
We ship our bears worldwide!

production
Each bear is made
by hand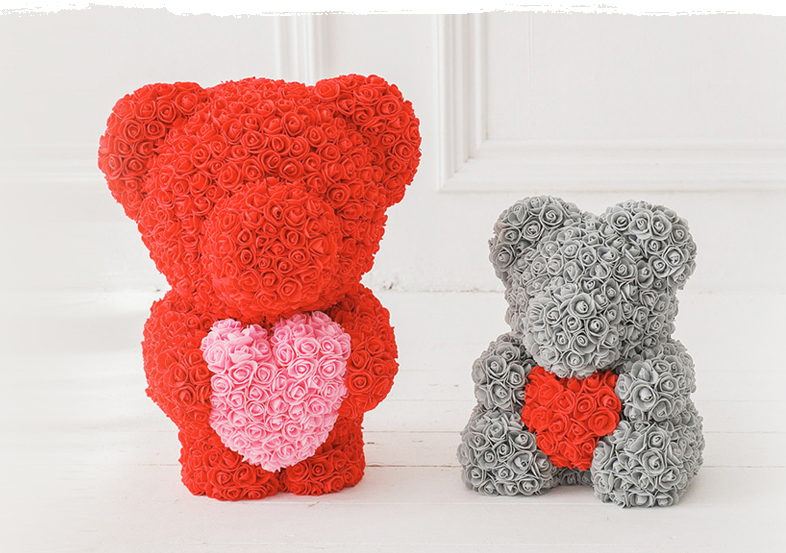 Handmade
3D rose bear whosale
Handmade bears inspired by the original teddy's with a luxurious spin that will make your loved ones feel adored and special. Our bears are made with the softest suede making it comfortable and huggable, a material that is perfectly safe even for newborns.
Wholesale Rose bear sizes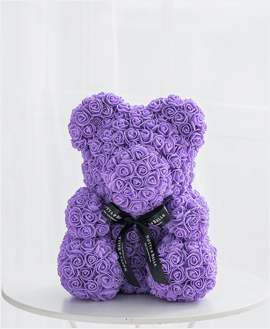 bear
14 in. (35cm) height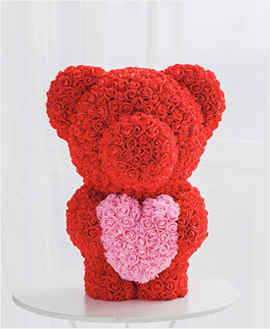 Bear with heart
22 in. (55cm) height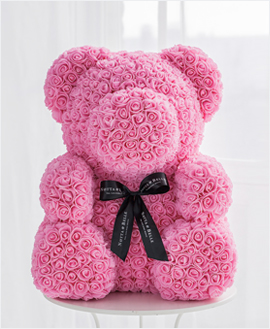 bear
26 in. (65cm) height
Rose bear colours















Largest Selection of Quality Flower Bears Available
Look in a child's room, and you will see a collection of toys that often get forgotten and ruined. Girls have plush animals crowding their beds of all different sizes, and they get pushed aside as they get older and more worn out.
If you want to get them something really special, we have your solution! Currently being sold at wholesale prices at Flowers Wholesale, our 3d Rose Bears are easier and more affordable to get than ever before. A unique gift for any age, these bears will be a big seller for anyone and everyone. Every bear is 100% handmade by skilled and experienced craftsmen. The process takes time, but the quality of the result makes it completely worth the wait! The outcome is a gift that will bring happiness to the person getting it for years and years to come.
Our bears made of roses are the perfect gift for someone who has everything. It's the perfect gift to give to someone who doesn't want anything from any ordinary store or something that everyone has already. Our production of these unique rose bears has become a mass phenomenon as numerous factories have started trying to recreate the special, one-of-a-kind gift that we offer. The big difference is in the quality and the guarantee that we offer to our customers!
Why Buy From Flowers Wholesale?
We offer a gift that is extraordinary and inexpensive, a gift that is quality and memorable. Purchasing in large quantities will ensure you get the most for your money, and you won't lose out on quality! We do not allow any mass production, so you can be sure that each and every bear is handmade with quality and precision. Our craftsmen hand assemble each bear using quality fabrics and material. We review every seam whether our bears are going directly to their new owner or to the shelves of our online stores. We may not have thousands of bears being
made a day, but you can be sure our rose bears are of the best quality and made with as much love that you want to give to someone.
From children to adults, each person would choose a custom and handmade rose bear over any other stuffed animal sitting on a shelf. We offer a variety of colors and sizes with different options on for hearts or ribbons alongside it. Choose a bear with a ribbon to have something special or your name inscribed on it.
Where can you buy these bears wholesale?
Buy our rose bears wholesale directly from our website! We make it super easy for you to get your order placed with all the details we need to ensure a safely packaged delivery. Make the different selections you want, and fill out all the needed information in the form. Once you confirm your order, one of our experienced account managers will call to ensure everything with your order is correct. We'll get the orders made, packaged, and shipped with a speedy delivery, and you can get your order in no time!