Delivery to USA
Your order is shipped with DHL courier service. Delivery within 4-5 business days across the Unites States.
We deliver worldwide
More information
Order a high-quality rose bear!
You can find a cheap bear online, but there is a high probability that you will receive a poor-quality product. This bear would not make a great gift! We offer a 100% Satisfaction Guarantee!
CHEAP ROSE BEAR:
Poor-quality gluing
Roses glued unevenly. Visible foam and glue. Bear is made from 200 roses.
Poor-quality material
Wrinkly and cheap roses are used for bears.
Long delivery time
Long shipping time and the delivery date is not guaranteed.
NO WARRANTY
Seller offers no warranty for quality and delivery.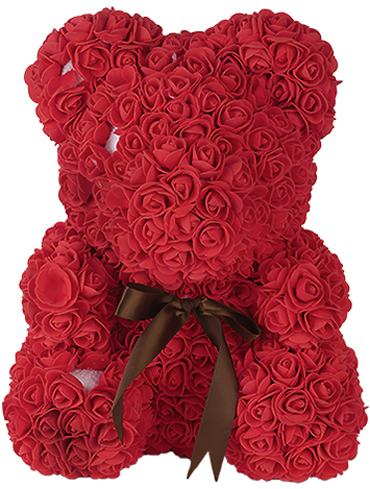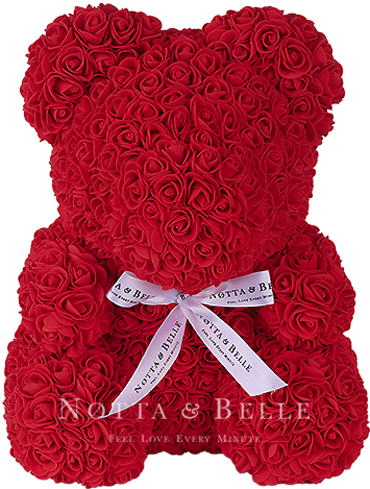 Slide sideways
to see the difference
ROSE BEAR BY NOTTA & BELLE:
High-quality gluing
All bears are handmade in Europe by Notta & Belle. We use more than 500 roses for each bear.
High-quality material
We sort and prepare all roses manually.
Fast worldwide shipping
Once your order is placed, you can expect it to ship within 2-5 business days.
Money-back guarantee
Get a refund within 14 days if you are not completely satisfied.
TO WHOM AND ON WHAT OCCASION TO GIVE A Rose bear AS A GIFT?
For a loved one
On an anniversary, on a birthday, or without a reason, just to cause someone's sincere smile.

TO PLEASE YOUR LOVED ONES
Mom or sister - absolutely everyone will appreciate such a sweet and gentle sign of attention.

CONFESSING YOUR LOVE TO SOMEONE
Your lady will be so impressed - she definitely won't have received such as a gift before!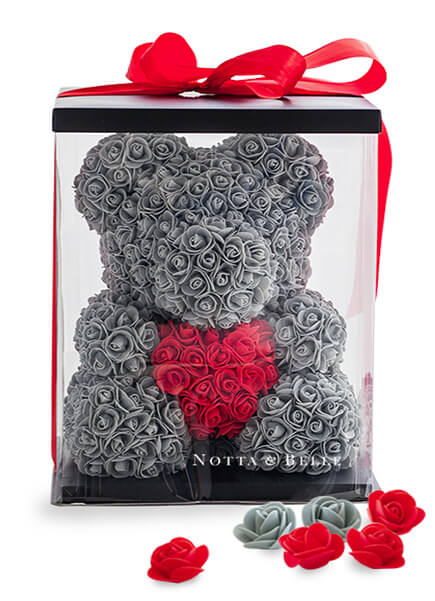 BIRTHDAY OR CHRISTMAS DAY
Bear of roses will be an excellent gift that can genuinely surprise loved ones.

COLLEAGUES AT WORK
A great surprise - your colleagues will be completely touched.

CHILDREN'S FIESTA
Any child dreams of such a gift, the bear can withstand falls and hugs.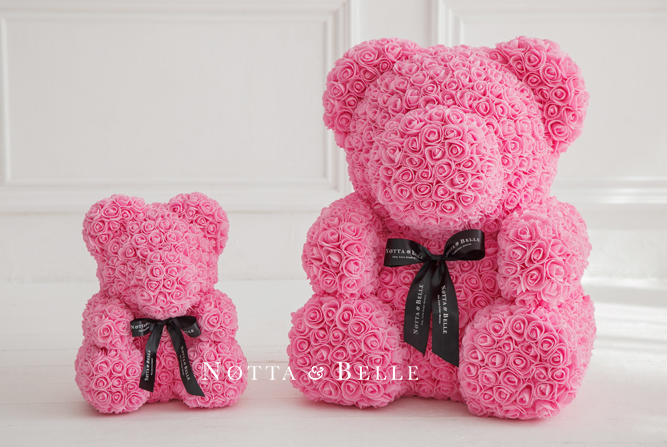 Does not require any care
You do not need to look after the bear, just follow 2 simple rules:
Do not place it in exposed sunlight
Handle it carefully
Warning! Use only under adult supervision for children 0-5 years
We ship worldwide
We pack our bears very carefully before shipping, so they will definitely reach you safely.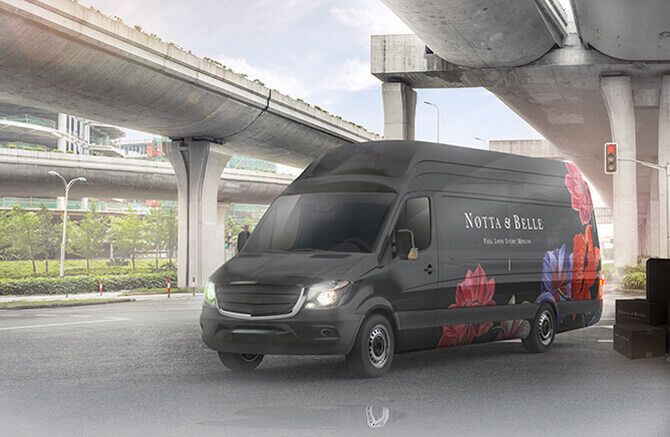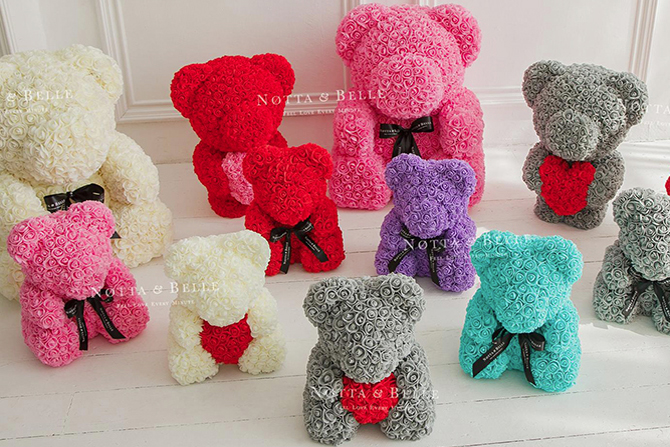 We produce the bears in-house.
Our rose bears are unique (we are the first to come up with this idea!) and are hand-crafted in our own production facility.
It is absolutely safe and does not cause allergies.
A Bear of Roses for any loved one!
Who wouldn't feel loved after receiving a bear made of the most beautifully designed roses? Whether it's for a significant other, for a family member, or a little lady or gentleman in your life, everyone can receive a rose and feel a lifetime of love.
Unique and Cherished for Years to Come
With a special 3-D decorative rose, these bears are designed to last. By using quality materials and created by hand, our rose bear is durable and provides a special kind of memory for all. We use a high-quality soft design made to look and feel like real, fresh roses. Pick from a number of colors to be sure your gift matches the style of the one you're giving it to.
The flowers will stay intact from five to seven years, still looking as beautiful as the day you received it. Because of our hand assembly, the flowers are tightly kept together to maintain the same appearance. Hug it and squeeze it all the same! The rose bear will stay together!
Smiles to All in Any Place
When you look at the Rose Bears, you may see a gift for a loved one or a gift for yourself. What makes these bears even better is that they don't have to be gifts at all! These are incredibly adorable ways to create a unique décor for any location that might have a cute or flirty vibe. Because of their lasting ability, there's no need to worry about them fading out quickly or being destroyed. Whether you're a photographer or interior designer, these rose bears can be used as props or décor to make you stand out with unique style. Easily cleaned, the rose bears simply can be wiped down of any dust particles. They are best kept away from the sunlight, though, to ensure the color lasts as long as the bear does!

WE DELIVER A ROSE IN A GLASS DOME THROUGHOUT THE US:
Alabama
Alaska
Arizona
Arkansas
California
Colorado
Connecticut
Delaware
District of Columbia
Florida
Georgia
Hawaii
Idaho
Illinois
Indiana
Iowa
Kansas
Kentucky
Louisiana
Maine
Maryland
Massachusetts
Michigan
Minnesota
Mississippi
Missouri
Montana
Nebraska
Nevada
New Hampshire
New Jersey
New Mexico
New York
North Carolina
North Dakota
Ohio
Oklahoma
Oregon
Pennsylvania
Rhode Island
South Carolina
South Dakota
Tennessee
Texas
Utah
Vermont
Virginia
Washington
West Virginia
Wisconsin
Wyoming.