Free delivery
When purchasing goods worth of £148 or more free delivery 4-5 business days
Fast delivery 1-2 business days
More information
Enchanted rose
Live rose, which will keep you enchanted for at least 5 years!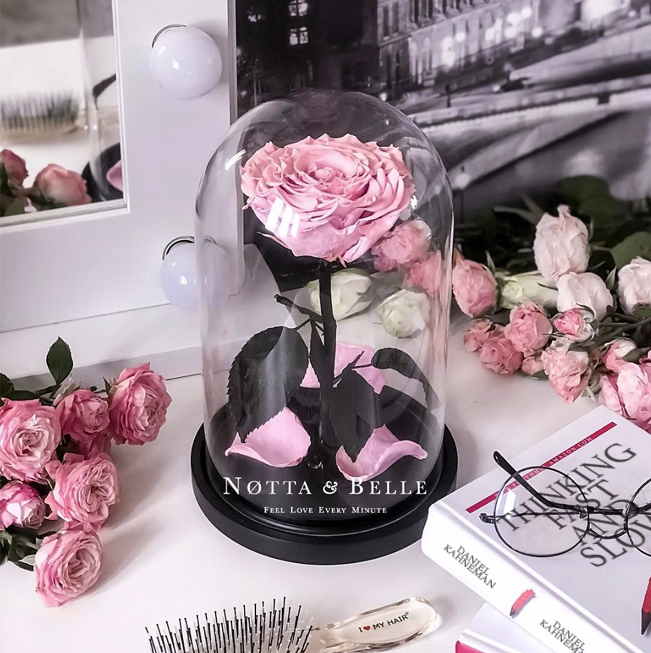 A Real Enchanted Rose For True Romantics
The Notta & Belle enchanted rose is a gift fit for a fairytale princess - your princess. Each rose - a real flower, specially-preserved, and encased in a crystal-clear glass dome - is an exact replica of the mystical flower from beloved Disney animation Beauty & The Beast. The ultimate way to woo lovers of the classic film, the enchanted rose in a glass dome will live on, and delight the recipient, for up to five years. Just as the enchanted rose in the Beauty & the Beast represents the prince's true love for beautiful heroine Belle, the Notta & Belle rose will express to your loved one just how timeless and endless your love for them is.
There are so many qualities that make the Notta & Belle enchanted rose truly magical. They include:
Each and every enchanted glass rose case includes a real rose, grown by us in our own plantation. We select only the most gorgeous roses - with no imperfections and perfectly in bloom - and tint them in a rainbow of elegant colours (from the darkest black and striking deep red to baby pink and Tiffany blue) to suit every taste, before encasing them in crystal clear glass. Your enchanted rose in a glass dome is not like other cheap, tacky gift items currently on the market. It's a luxurious and high-end alternative fit for princesses.
The Notta & Belle real enchanted rose lives on for at least five years - like magic! Due to special stabilization technology, each enchanted rose will remind the recipient of your love for them, for almost 2000 days, without any special care or need to water it.
It is the ultimate symbol of your undying love for somebody special - whether that's a wife, girlfriend, daughter, relative, colleague or dear friend. If you're particularly close to a person naturally you'll want to purchase them presents that are as intimate as the relationship itself. What could be more so than our an enchanted rose, naturally preserved, like magic? Upon gifting one enchanted rose in a glass dome, you'll be transformed into a magician yourself, turning your loved one's life into an everyday fairytale. No magic wand needed.
The Notta & Belle enchanted glass rose case truly is the perfect gift for any occasion. Not only are our enchanted roses the dreamiest present available on the market, they are unique in that they are suitable for anybody, any time - on a birthday, engagement, wedding, anniversary, Valentine's Day, Christmas day or just to celebrate your love in general. Even gift one to yourself! Many of our customers, including wedding planners, interior designers and those who simply have a passion for the flower, decide that the real enchanted rose makes the perfect addition to a special event or the dream home.
So what are you waiting for?
By encasing our enchanted roses in glass, we forever capture the profoundly beautiful meaning of the queen of flowers, the rose. The rose represents love. Romance. Devotion. Everything we dream of. Our enchanted rose is infinite and eternal love, embodied, forever.

We deliver Enchanted rose across the UK:
London
Manchester
Belfast
Liverpool
Birmingham
Bristol
Leeds
Glasgow
Edinburgh
Inverness
Perth
Dundee
Cardiff
and others!