Free delivery
When purchasing goods worth of £148 or more free delivery 6-7 business days
More information
Order a high-quality Rose Teddy Bear!
You can find a cheap bear online, but there is a high probability that you will receive a poor-quality product. This bear would not make a great gift! We offer a 100% Satisfaction Guarantee!
CHEAP ROSE BEAR:
Poor-quality gluing
Roses glued unevenly. Visible foam and glue. Bear is made from 200 roses.
Poor-quality material
Wrinkly and cheap roses are used for bears.
Long delivery time
Long shipping time and the delivery date is not guaranteed.
NO WARRANTY
Seller offers no warranty for quality and delivery.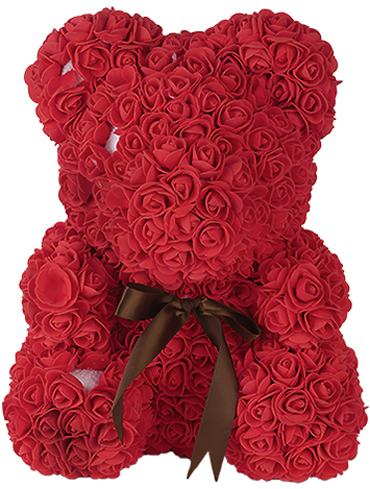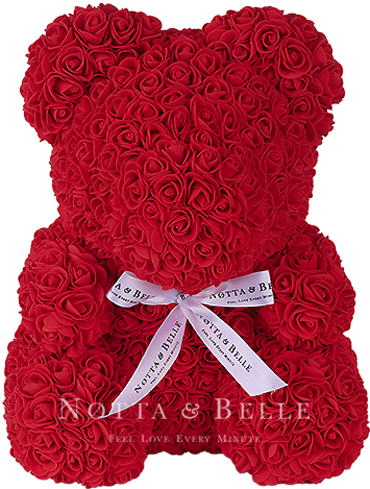 Slide sideways
to see the difference
ROSE BEAR BY NOTTA & BELLE:
High-quality gluing
All bears are handmade in Europe by Notta & Belle. We use more than 500 roses for each bear.
High-quality material
We sort and prepare all roses manually.
Fast worldwide shipping
Once your order is placed, you can expect it to ship within 2-5 business days.
Money-back guarantee
Get a refund within 14 days if you are not completely satisfied.
TO WHOM AND ON WHAT OCCASION TO GIVE A Rose bear AS A GIFT?
For a loved one
On an anniversary, on a birthday, or without a reason, just to cause someone's sincere smile.

TO PLEASE YOUR LOVED ONES
Mom or sister - absolutely everyone will appreciate such a sweet and gentle sign of attention.

CONFESSING YOUR LOVE TO SOMEONE
Your lady will be so impressed - she definitely won't have received such as a gift before!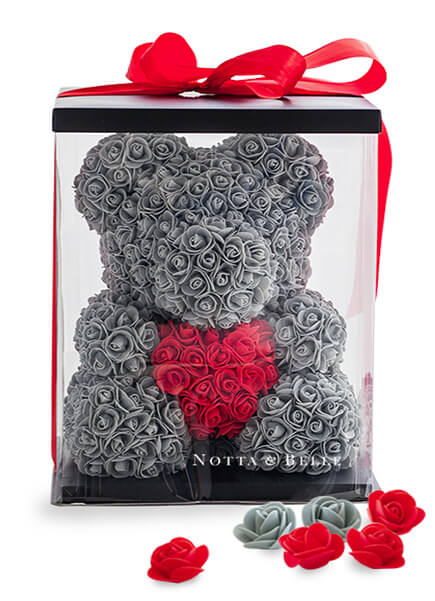 BIRTHDAY OR CHRISTMAS DAY
Bear of roses will be an excellent gift that can genuinely surprise loved ones.

COLLEAGUES AT WORK
A great surprise - your colleagues will be completely touched.

CHILDREN'S FIESTA
Any child dreams of such a gift, the bear can withstand falls and hugs.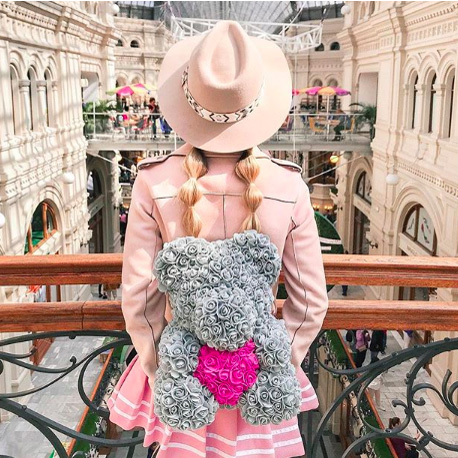 Daughter is delighted with the Bear! The gift was just appropriate!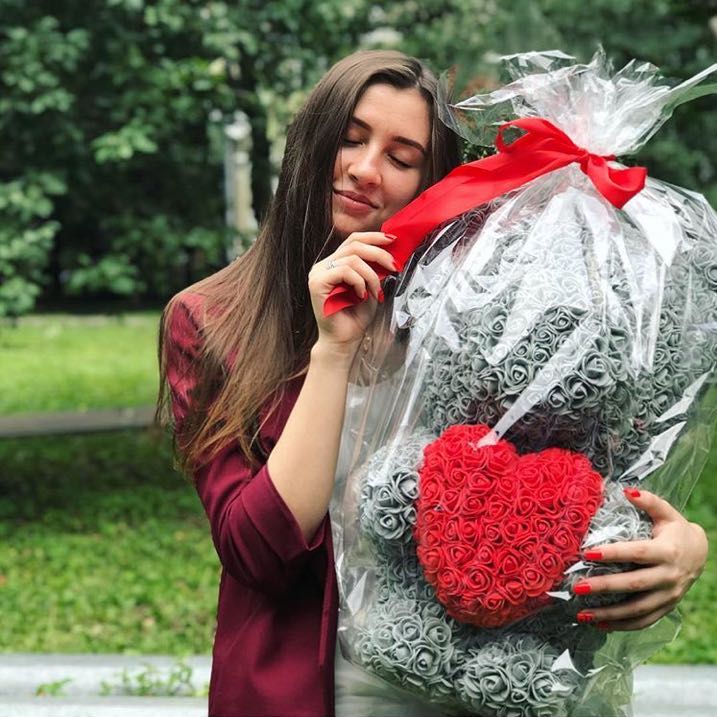 The Bear is very tender and pleasant to the touch! Fast delivery and top quality! Thank you very much!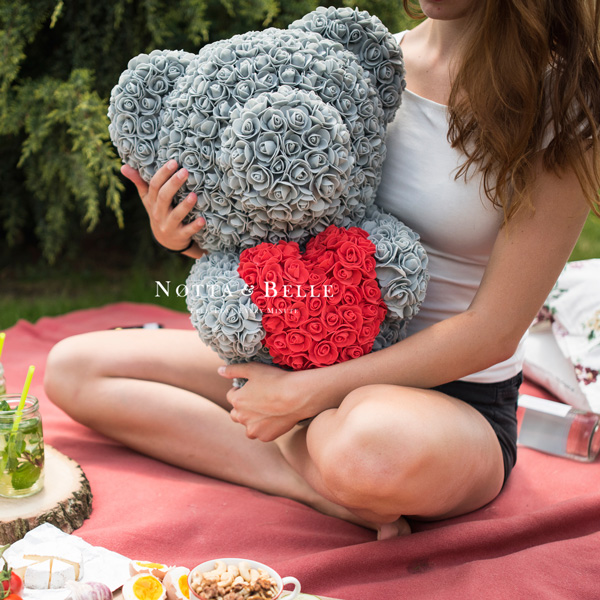 Teddy Bear arrived very fast! He's just lovely! Thank you Notta & Belle!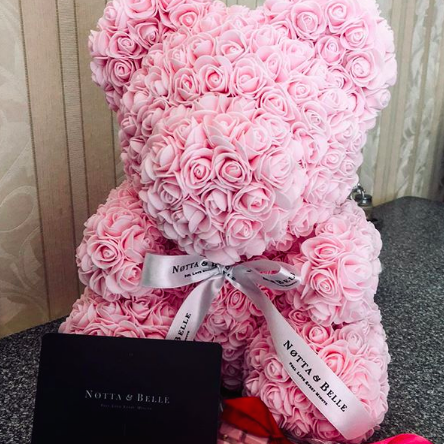 Thank you @nottabelle You are the best! Teddy Bear is incredible!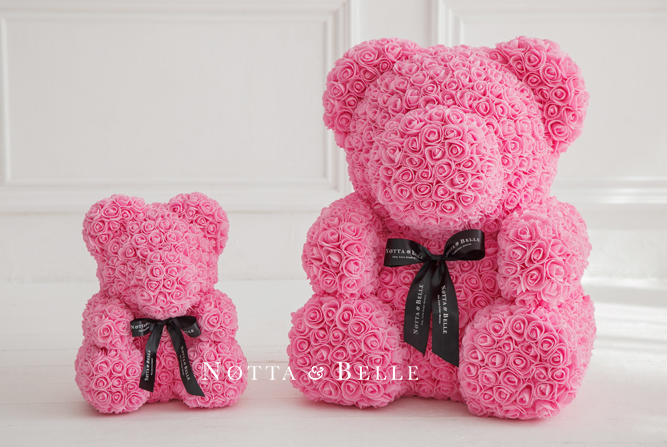 Does not require any care
You do not need to look after the bear, just follow 2 simple rules:
Do not place it in exposed sunlight
Handle it carefully
Warning! Use only under adult supervision for children 0-5 years
We ship worldwide
We pack our bears very carefully before shipping, so they will definitely reach you safely.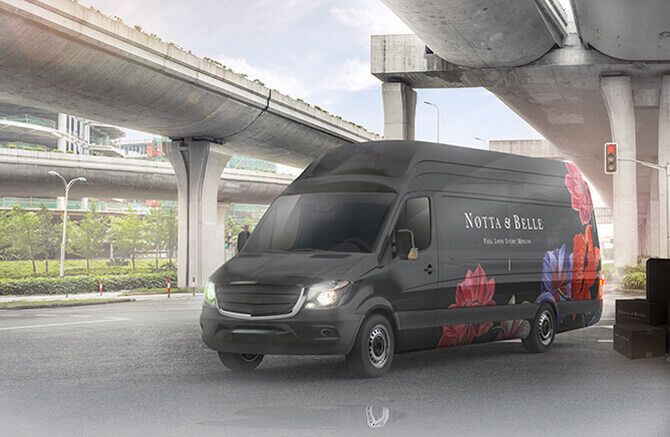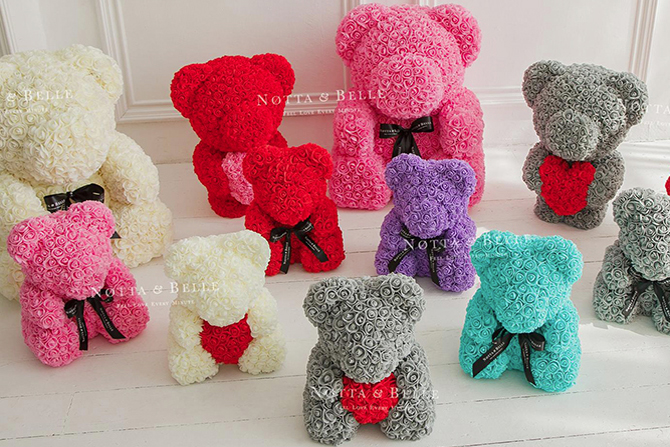 We produce the bears in-house.
Our rose bears are unique (we are the first to come up with this idea!) and are hand-crafted in our own production facility.
It is absolutely safe and does not cause allergies.
OUR BEAR MADE OF ROSES IS AN IDEAL GIFT
Show your loved ones what they mean to you! Our bear made of flowers is the perfect gift for all celebrations such as a birthday, Valentine's Day or any memorable date. A unique, memorable way to say 'I love you!'
WHAT MAKES OUR ROSE TEDDY BEAR SPECIAL
We use a special kind of 3D decorative rose. These roses are visually almost impossible to distinguish from natural ones; creating the impression of fresh flowers.
About 500 flowers are needed to create a medium-sized bear. The roses are assembled exclusively by hand. Quality materials and hand assembly gives the bears a unique charm. In addition, our bears come with the following advantages:
Long lifetime
Such a bear will not lose its attractive appearance for a very long time - it will make its owner happy on average from five to seven years. The flowers do not lose their attractive appearance, nor original colours.
Durability
Thanks to high-quality hand assembly, the flowers fit tightly together, so they will not fall off and are without gaps. Your Bear will keep a neat appearance, even if its constantly hugged!
Uniqueness
Our bear is a unique concept, so this is a gift that is not just the sweetest, but truly different and memorable, unlike any other.
WHEN TO CHOOSE A BEAR?
A bear made of roses can be an addition to any other basic gift or gifted instead of a flower bouquet. Of course, it is also an excellent and head-turning gift in itself. It will remind its owner for years to come that you chose it with imagination and sincere feelings.
There is no doubt that the bear will enchant a small child, young girl, or grown woman – there are no exceptions. Thanks to the product properties, you can present this gift to a child - the material is safe, the fixing is strong, the bear is ready to be loved in any way and it will not disappoint its little mistress!
OTHER WAYS TO USE OUR BEAR
Our bear made of roses is not only a perfect gift for any celebration, it is also a new word in interior design. Use them to decorate your wedding or other formal celebration – our bears will harmoniously suit any design and theme, emphasise the exquisite taste of the organisers, create a special atmosphere and capture the significance of the day.
If you are a professional wedding decorator, please note that our bears do not lose their appearance for a very long time, so you can use them more than once. A couple of bears, in different colours and sizes, will serve you a long time.
BEAR MAINTENANCE
All you need to do is to remove the dust from the petals from time to time. Due to the special material, dust is easily removed from the surface. The only recommendation is not to expose it to direct sunlight for any length time to preserve its original colour.

Our bears made of roses can be delivered to all cities of UK:
London
Manchester
Belfast
Liverpool
Birmingham
Bristol
Leeds
Glasgow
Edinburgh
Inverness
Perth
Dundee
Cardiff
and others!