Free delivery
When purchasing goods worth of £148 or more free delivery 4-5 business days
Fast delivery 1-2 business days
More information
Rose bear wholesale
3 sizes
More than 9 colours available
We can offer attractive prices for wholesale purchases
Get the pricelist

100 000 + GIRLS
Are pleasantly touched by gifts
from Notta & Belle!

fast shipping
We ship our bears worldwide!

production
Made in Europe
by Notta & Belle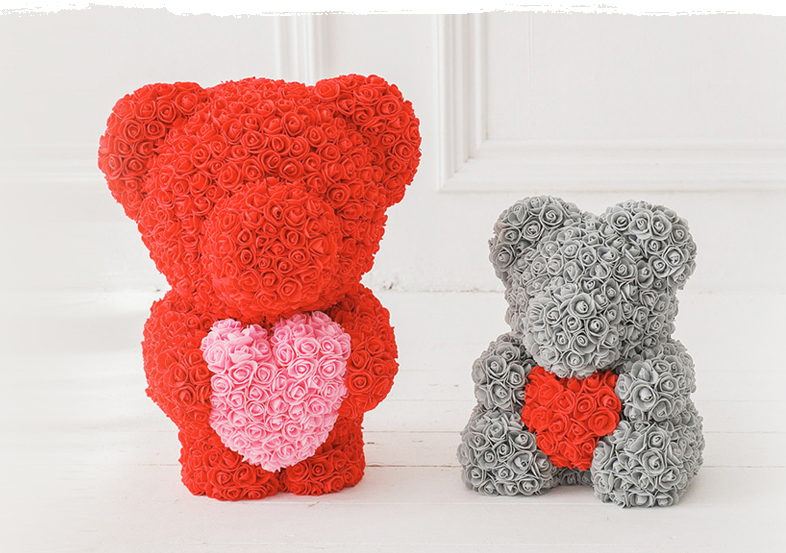 Handmade
Premium Quality
Our bears are inspired by the traditional "Teddy Bear", which has been popular for more than 20 years, but designed with a super luxurious spin.
We create our bears by hand using plastic suede, a material which is very nice to the touch and perfectly safe. This is a new material that has only appeared on the market recently.
Wholesale Rose bear sizes: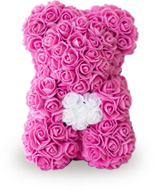 Bear
10 in.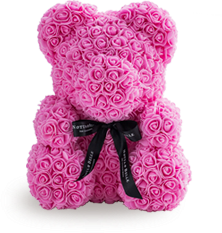 Bear
14 in.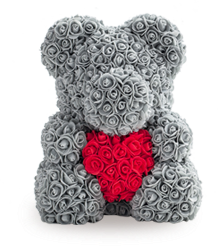 Bear with heart
14 in.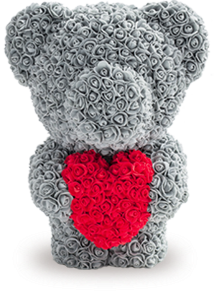 Bear with heart
22 in.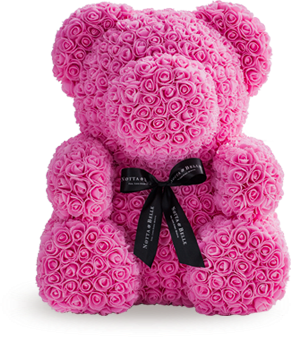 Bear
24 in.
Rose bears colours















Purchasing our rose bear wholesale - The ideal gift
The teddy bear is one of the most classic gift items available anywhere in the world. The ideal way to say 'I love you' to somebody beloved whether that be a partner, relative, daughter, colleague or cherished friend, the cute and cuddly teddy is sold in the billions each and every year.
What makes the Notta & Belle teddy extra special however, is its luxurious take on this traditional item. Our bears are handmade using hundreds of delicate little rose shapes. Each rose is made of plastic suede, a higher-end material that is extremely pleasant to touch and completely safe, non-toxic and allergen-free. Indeed, this innovative material only appeared on the market recently and goes to reinforce Notta & Belle's dedication to selecting only the finest components for each product the company produces.
It's the perfect luxury gifted for any occasion - a birthday, anniversary, engagement, Christmas, Valentine's Day or just to say 'I love you!'.
Get a competitive price with rose teddy bear wholesale
Purchased individually, the Notta & Belle rose bear is priced between £65 and £260. The bear is, after all, a luxury item for lovers of all things high-end. It's a way to truly spoil a special someone in your life (or treat yourself!) and remind them how dearly you love them.
Notta & Belle is delighted to offer an extremely competitive rate for wholesale of our beloved 'forever rose bear' - in any variety, size and colour you choose. Rose bear wholesale will see your chosen bears delivered to you, fast (2-5 working days), anywhere in the UK. A Notta & Belle representative personally checks each shipment before it is sent securely to you, so you can rest assured that the bears will arrive in perfect condition. If you're unhappy, we offer a full money-back guarantee within 14 days.
Our rose bears are always in stock (as we make them in-house here in Europe) and ready to be shipped to you immediately - and unlike other wholesale bears in the UK, they are truly luxurious and in high-demand by lovers of luxury all over the world.
Forever rose teddy bear wholesale - a rainbow of choice
The Notta & Belle bear, or the 'forever rose bear' as it is often named (a reference to our popular Forever Rose In A Glass Dome product), is available in a rainbow of different colours. From classic red and soft pink to striking turquoise blue and sophisticated grey, there is an option to suit the exact tastes of any recipient. Brides-to-be may also opt for a rose bear in snow white, ideal for furnishing an engagement party or wedding. In addition, buyers can purchase the rose teddy bear wholesale in sizes ranging from 10 to 26 inches. There is a bear for everyone and all occasions!
Who can purchase the rose teddy bear wholesale?
If you need a larger number of rose teddy bears, you are able to request a price list and speak with a Notta & Belle team member, based in Europe, who will be delighted to accomodate you.
Become a brand ambassador and purchase the Notta & Belle rose bear wholesale to delight your retail customers. Order for a client wishing to make their wedding, party or gathering truly magical or even purchase them in-bulk as a dreamy and romantic interior design option for your home or office. The options are endless!